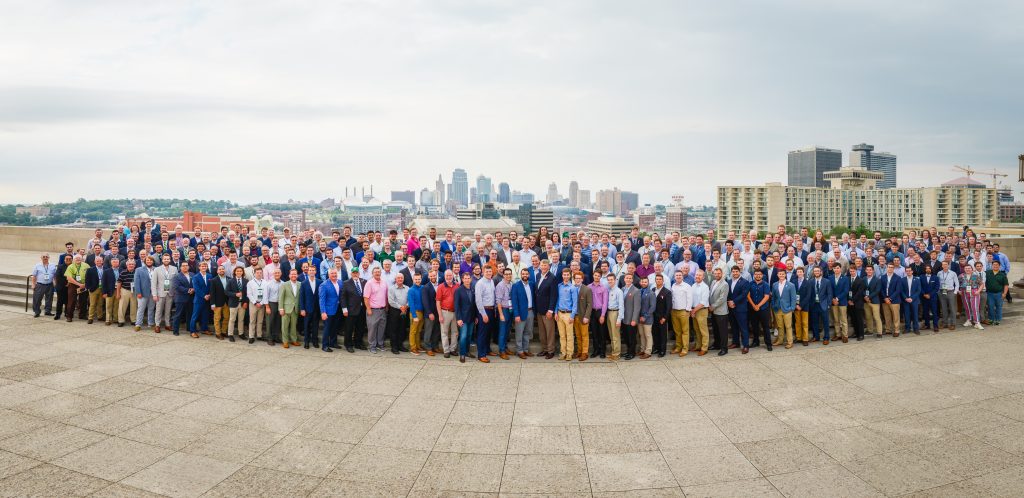 Kansas City brought the BBQ and we brought the brotherhood as over 450 members, guests and partners congregated in the City of Fountains to celebrate the 62nd National Convention of Delta Sigma Phi. Kansas City Marriott Downtown served as a beautiful backdrop from August 1st through the 4th as indescribable energy and excitement filled the rooms and halls of the hotel.
For those in attendance, they were able to witness firsthand the power of our great Fraternity and share in the successes and accomplishments that transpire when we come together as a brotherhood and chart the course of Delta Sigma Phi.
Thursday, August 1st
Swope Memorial Golf Course hosted nearly 40 brothers for the unofficial opening of Delta Sig's National Convention. Golfers were treated to the only public course to have hosted a PGA tour event and found the challenging yet fun-to-play course offered view of downtown along with the occasional roar of a lion from the nearby Kansas City Zoo!
The official kick-off of the 62nd National Convention took place that evening with memorable entertainment. The F. L. Schlagle Marching Stallions, a local high school marching band, welcomed us in such a unique and attention getting way. Attendees were surprised and in awe of the talent of this group of teenagers.
The day closed out with the Pilgrim Degree. This Convention-only experience is a highlight for the first time and returning members. Members explored the history and values of Delta Sigma Phi and celebrated their dedication to the fraternity. They now know the answer to the classic question: why the fez? 
Friday, August 2nd
The official business of the Convention began Friday morning with the first of 5 In-Convention Assembled (ICA) sessions. This session, entitled The Journey, dived deep into the core values of the Fraternity; Culture, Harmony, Friendship and explored what it truly will take to become one of America's Leading Fraternity in the current Greek climate.
Lunch was hosted by the Delta Sigma Phi Foundation, with Foundation President, Brad Sullivan, Transylvania University '99, unveiling the Our Brothers. Our Future campaign. Undergraduates spoke about the life changing opportunities that have been afforded to them by being members of Delta Sigma Phi and attending leadership programs. This $12 million transformative campaign is essential to the future of our great Fraternity. To learn more and donate to Our Brothers. Our Future, please visit deltasig.org/ourbrothers.
Past Grand Council National President Loren Mall, Kansas State University '58, gave a compelling and captivating presentation on the history and message of our Fraternity and Ritual. He also shared the special tie Delta Sigma Phi has to the WWI Museum, which provided to be very important for the evening's festivities.
The Live and Silent Auction, always a favorite amongst convention attendees, was the highlight of Friday night. The WWI Museum played host as brothers and guests bid on one-of-a-kind Delta Sig items as well as vacations and unique experiences. As in prior years, the money raised during the auction allows the Delta Sigma Phi Foundation to continue providing leadership programming support for our undergraduate members. 
Saturday, August 3rd
This ICA brought some exciting news about leadership programming and positional training. The new LEAD Weekend Regional Program was unveiled during the ICA. This new program will replace the Better Man Academy beginning this winter and spring 2020.
The core focus of this new leadership program will be to bring undergraduate chapters and leaders together for a weekend retreat close to their campuses.
Over the past few years, the Bruce J. Loewenberg Summit brought recruitment chairs together from across the country. Moving forward, that high level recruitment curriculum will be incorporated into the new LEAD Weekends, so more brothers will have the opportunity to learn about chapter growth.
For more information about the new LEAD Weekend Regional Programs, visit deltasig.org/lead.
Mike Duke, Georgia Institute of Technology '68, served as the keynote speaker for the Saturday morning ICA. Brother Duke recently retired as the President and Chief Executive Officer of Wal-Mart Stores. He stressed the importance of leadership within each of our communities.
Over 100 attendees attended a special tasting of JUSTIN Wines, founded by Justin Baldwin, San Jose State University '64. Brother Baldwin was on hand to describe the four wines he brought for the tasting and educated participants on the proper way to taste and find a high quality wine.
Saturday ended with the award banquet celebrating the accomplishments of chapters, dedicated volunteers and passionate brothers who embody the Better Man. The Singing Pilgrims performed and provided the perfect entertainment to close out the evening. 
Sunday, August 4th
Don Chandler, The University of Texas at Austin '73, served as chaplain for the Bond Eternal ceremony, which is a sober yet poignant time during convention. To view the list of Brothers who joined Bond Eternal since the 2017 Convention, please click here.
Grand Council Elections were also held that morning and below are those brothers elected to serve our Fraternity in the highest capacity.
Grand Council National President
Jim Larson, California Polytechnic State University, San Luis Obispo '72 
Grand Council National Vice President
John Jenkins, University of Virginia '84 
Secretary/Treasurer
Tom Archer, University of Virginia '87 
Grand Council Past National President
Tom Cycyota, University of Illinois '77 
Director
Divyesh Jevtani, Illinois State University '01 
Director
Tom Seto, Purdue University '05 
Director
Scott Wiley, State University of New York-Oswego '97 
Undergraduate Director
Reagan Hansen, The University of Iowa '17 
Undergraduate Director
Travis Walker, Texas State University-San Marcos '16
To close out convention, members and guests enjoyed a sports themed celebration at the College Basketball Experience. Dawning their alma mater and collegiate alliances apparel, attendees we able to relax and kick back with food and conversation. Some decided to get in on a game of Three on Three or challenge a brother to Pop a Shot. It was a great way to close out the 2019 Convention.
Award Recipients:
Mr. Delta Sig Award
Tony Smercina, The University of Texas at Austin '81
Harvey H. Hebert Award
Ken Willard, Purdue University '90
Scott Kimpel, The University of Texas at Austin '93
Career Achievement Award
Jim Unger, The University of Missouri '67
E. Allen James Outstanding Undergraduate Award
Daniel Cooper, Transylvania University '16
Francis Pete Wacker Interfraternal Award
Woody Woodcock, Vice President of Human Development, Phired Up
Russell T. Roebuck Outstanding Volunteer Award
Gregory Gifford, The Ohio State University '63
Charles G. Bartell Outstanding Chapter Advisor Award
John Gettemeyer, Missouri University of Science & Technology '14
Eric Pickett, University of Idaho '79
Hugh "Cap" Ryan Outstanding Alumni Association Award
St. Louis Alumni Association
Strong Leaders Award
Eric Dippold, Western Carolina University '10 
This year, we created a new award because as we look to the future, we recognize the importance of partnering with leaders in higher education who are passionate about our young men and Greek Life. The Higher Education Partner Award honors individuals who play an integral role in the life of undergraduate chapters and members.
Pat Bosco, Kansas State University '69 
2018-2019 Chapter Award Recipients:
Pyramid of Excellence Award 
Alpha Iota – The Ohio State University
Alpha Upsilon – Kansas State University
Beta Mu – Transylvania University
Delta Epsilon – Missouri University of Science and Technology
Iota Delta – James Madison University
Zeta Pi – University of Louisiana at Monroe
Chapter of Distinction Award 
Eta – University of Texas at Austin
Iota Mu – Kennesaw State University
Loren Mall Ritual Award
Theta Psi – Shorter University
Outstanding Community Service
Beta Zeta – University of Florida
Outstanding Philanthropy Event
Epsilon Tau – Grand Valley State University 
Robert R. Harris Outstanding Recruitment Award
Gamma Epsilon – San Jose State University 
Highest GPA
Beta – Columbia University
Largest Chapter
Theta Chi – University of Georgia
Spouse/Guests Program 
Spouses and guests were treated to a unique program all their own. While the business of the Fraternity was being conducted, Kansas City proved to be a city with something for everyone. The ladies enjoyed painting a silk scarf, touring the National Museum of Toys and Miniatures, where they created a miniature piece to take with them, got a behind-the scenes look at how Hallmark cards are created and closed out their program at the Webster house, where they enjoyed a brunch and a unique shopping experience.